Date: 9th May 2019
Times: 7:30 pm - 9:00 pm
Location: Pendle Heritage Centre
Two for the price of one!   We hope to have a swift AGM before a very interesting talk by Maggie Dickinson who is  said to be an enthralling and entertaining speaker and has been known to 'pack out' local village halls.  She has many different lectures but after our AGM in 2019 will be entertaining us with information about  Ancient Packhorse Bridges.
Apparently in the British Isles the definition of a packhorse bridge (PHB) is quite nebulous, however, according to Hinchcliffe, a classic PHB is less than six feet wide, built before 1800 and on a packhorse route.   That covers many bridges then!  They were intended to carry ponies or pack horses carrying panniers or sidebags across a river or stream. An essential feature seems to be low parapets that did not interfere with passage of the panniers, the narrowness of the sometimes multi arched bridges ensured that only one pack animal at a time could cross. Sometimes the bridges would have 'cutwaters' that extended upwards to form a refuge for pedestrians.
These packhorse routes may sometimes have followed Roman or monastic roads and formed major transport arteries throughout Great Britain and Europe. Before Napoleon built his road system, all crossings of the Alps were by mule trains. After the building of turnpike roads and canals in the 18thC. these routes were no longer required and fell into disuse.
Maggie will entertain us with stories of the 'den of iniquity' at Gearstones near Thorns Gill PHB – in sight of Ribblehead. Apparently the area was seen as a "seat of misery in a desert" (Lord Torrington 1792) with uncouth drovers and inferior food and drink. The hostelry was the seat of a weekly local market and bi annual cattle fairs for horses, cattle and grain from the 15thC. until around 1872. The site of Thorns Gill is thought to be important as it is near  the Cam old Roman road on the way to Hawes and it is also on a major drovers route from the Scottish Borders via Mallerstang thereby also connecting to Ingleton and Settle.
More locally Swanside Bridge near Rimington/Chatburn is said to have been built in the 16th C. It is a most lovely named and lovely little bridge but apparently the swan is a derivative of swain from nearby Swainside. No doubt Maggie will have many more tales and images to enthrall us with.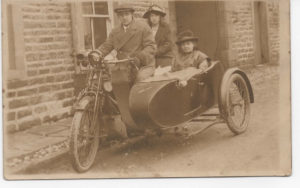 She may also be keen to tell and show you photos of Billy Blacksmith, a resident of Barrowford, and his family. Billy worked at the smithy very near to where you will be sitting in the Barn. And of course if you were to stand with your back to the barn looking east you may be able to spot our very own PHB at Higherford.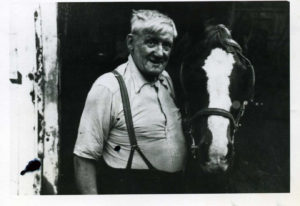 And you may possibly know …that the hymn tune Rimingon usually set to "Jesus shall reign where ere the sun" by Frances Duckworth was written in testament to his youth in his home village of Rimington, which is a few stones throw from a glade that contains Swanside PHB. This is an international, world famous, sung tune which in future whenever I hear it will raise evocative images of the lovely countryside around Rimington.
PS Don't tell those southerners about these aspects of our northern heritage.
Banner Image: Pack Horse Bridge over Afon Taihinon on Ffestiniog Moor. Attribution: Alan Fairweather.     Lamb: courtesy of Welsh Farmers