Date: 11th April 2019
Times: 7:30 pm - 9:00 pm
Location: Pendle Heritage Centre
Dr David Johnson lives in Yorkshire, however, we will not hold that against him! Whilst he has a passion for archaeology and landscape he has been researching and interpreting the landscapes of the Dales for over thirty years. He is an accepted authority on the archaeology and history of early lime burning and indeed has received a national award for this. He has published a seminal book Ingleborough, Landscape and History and has many other books, journals and publications to his credit. He is also a past  chairman of Ingleborough Archaeology Group (IAG).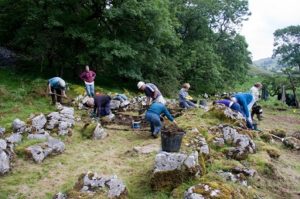 Knowledge of pre-Conquest rural settlement in the North West was limited until IAG began a major project investigating sites around Ingleborough which were composed of clusters of rectangular buildings with low stone walls. None had previously been recognised as early medieval. All the sites were found to have common elements and all proved from radiocarbon dating to be have been occupied during that period, with dates variously ranging from the late seventh to the end of the tenth century.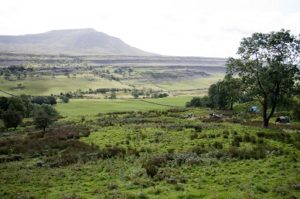 Artefacts recovered enabled comments to be made about life and work in North Craven before the Norman Conquest. Apparently one of the most pleasing finds was a copper bell, probably a sheep bell, which would have enabled someone to have gone out and followed the sheep around all day. (Was this pastime related to the nursery rhyme "Little Boy Blue……?).   Other finds include lumps of iron ore from Millom and metal working tools, blades of various lengths which were most likely used as knives for bread, meat or wood working.   A piece of a glass drinking vessel also indicated that it was not just peasants who inhabited the area. David's theory is that the sites were abandoned shortly before 1,000 AD, which is where all but one of the dates for finds stopped.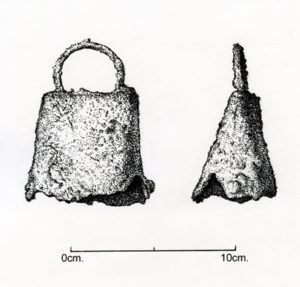 David is well known as an excellent speaker and we look forward to welcoming him again to the Heritage Centre, when he will explore issues arising from the findings stated above  and perhaps more recent findings and set Craven in a wider context.  This talk will also demonstrate that something good does come out of Yorkshire!
All images courtesy of Dr. D. Johnson