Date: 27th May 2019 - 29th May 2019
Times: 10:15 am - 3:00 pm
Location: Pendle Heritage Centre
Do you know what was happening on Calf Hill above Sabden 4,000 years ag0 or even 500 or 100 years ago?
No? Neither do we but we are aiming to find out!
Why not join us as we start to uncover its secrets?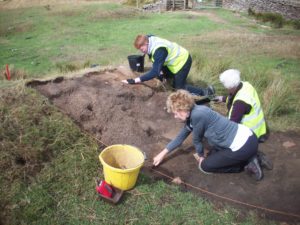 We're keen to recruit like minded individuals who are interested in our heritage/history/archaeology.
    No knowledge or experience required
    It's not just about digging. There's photography, drawing, cleaning and labelling finds etc
    Join us for an hour or day, its your choice.

Calf Hill dig, Day 2. 2018. More chert
Contact info@foph.co.uk for more details
Visitors to site welcome. Come and tell us your family stories about the Craggs or Calf Hill
Membership: £18 for individuals, £24 for a family