Date: 11th January 2020
Times: 10:00 am - 12:30 pm
Location: Pendle Heritage Centre
Happy New Year to all archaeology minded people and if you want to know more about what we are planning for the next year, come along to the cafe for a cuppa or brunch at 10 am or the Green Room for the meeting at 10 30 and get involved in the decision making.
Firstly this is a meeting for the Friends to come and give their views on the structure and future direction of the group and the future programme of activities for the next twelve months to include digs, surveys, research, walks and other archaeological activities.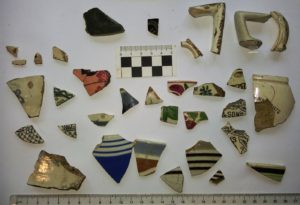 Secondly we have a speaker – Alex Whitlock who is a Finds Liason Officer  (FLO) for Lancashire and Cumbria who will talk on the Portable Antiquities Scheme (PAS) and how it relates to local archaeology.
Parking

Free next to the barn, across the road free for the first hour then 50p an hour, pay on exit.
Banner Image: Diggers at Work. August 2019. Calf Hill. Attribution: C.Rousseau Jones.