Date: 10th February 2018
Times: 10:15 am - 3:00 pm
Location: Pendle Heritage Centre
Why not come and join us in this first session of 2018 and also the first session of the newly renamed group.
Some people meet at 10 15 for a 10 30 start. The bacon butties are supposed to be good, so say the Rawtenstall contingent who are banging on the doors at 10 am. Where would we be without them!
Alex and Catherine will unfold their projects on Pre Conquest exploration and the Mediaeval period.  We should also have some idea of excavation work.      This will be followed by discussion and input by group members.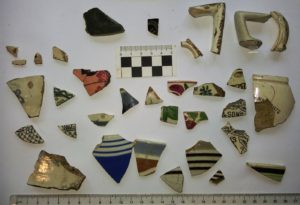 After this we will continue with post excavation work, washing and cleaning and sorting finds from our summer digs.
There will also be a small group meeting to look at advertising to draw in new members.
Time 10 15 – 3pm.  What about lunch? Well you can bring a packed lunch but we also have the cafe downstairs.   Don't feel that you have to stay all day.