Date: 28th July 2018 - 3rd August 2018
Times: 10:15 am - 3:30 pm
Location: Pendle Heritage Centre
Catherine Rousseau Jones will be the Dig Leader on our Calf Hill Dig
When: Saturday 28th July until Friday 3rd August.  (Although – Watch this Space – if the weather is bad the dig may go on for a day or two longer)
Times:  Meet 10 15 at the Car Park at the Cattle Grid on Clitheroe Road, Pendle Hill.
Where: go to the above Car Park and follow the path east, you should see us digging on Calf Hill, look for the High Vis jackets
Car Parking: There is usually room for around 5 cars here,  any overspill can use the larger car park below.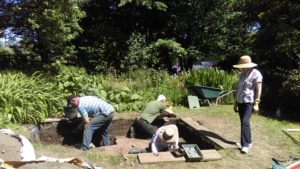 Meet daily at 10 15 to start at 10 30 on site finishing at 3 /3-30pm daily.
Everyone welcome anytime, if you have half a day to spare that would be great, if you want to come all week, that is fine too or anything inbetween.  A day on a day off is sometimes a useful thing to do.
It is not all digging, we need people to measure, record finds, wash finds as well as to dig and scrape and empty buckets! From time to time we need photographers and people who are able to draw the trench… so as we said earlier, everyone is welcome.  And we need members to talk to the general public also.
As a member of the public we will give you an idea of what we are up to and you will be able to "have a go".
If you are serious about being a team member we will ask that you join the group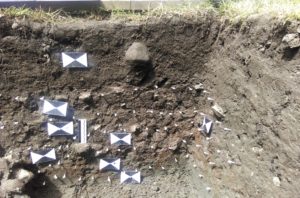 Looking forward to seeing you there, even if its just for a spot of moral support!

Joining instructions and more info will be sent later on request.

gw@gayle-victoria.com