Date: 17th September 2020 - 1st January 2021
Times: 7:30 pm - 9:00 pm
Location: Pendle Heritage Centre
Due to the uncertainty surrounding the current epidemic, we are sorry to postpone this event and we hope that Roger will join us at a future date.
Dr Roger Martlew is a well known and extremely well experienced archeologist, historian, author and editor. He taught archaeology for sixteen years at Leeds University and we hope that he will enlighten our understanding of the Celts or Iron Age population in northern England.
Roger writes that ecent discoveries are adding detail and complexity to our understanding of the Iron Age and "native" Romano-British inhabitants of northern England. We have moved on a long way from the late 1950s view (from southern England) of "Celtic cow-boys", but there are still big gaps in our knowledge and much that awaits discovery. Following many years of investigation in Upper Wharfedale, Dr Roger Martlew will highlight the major achievements of recent research and consider the questions that remain. The picture shows a statue of Ambiorix, a Belgian chieftain, and represents a romantic view of Iron Age Celts at the dawn of History that provokes a wide-ranging discussion.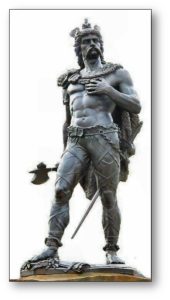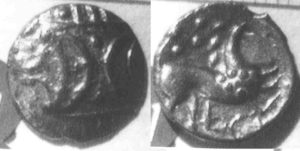 Who were these …"Celtic cowboys and shepherds footloose and unpredicatable moving with their animals over rough pasture and moorland" (Piggot S. 1958)? And how do we interpret evidence from the past? Is the term Celtic a problematic term?  Lots of questions and we are looking forward to Roger enlightening us on the archaeology, art and cultural identity of these people who seem very familiar to us, but are they?.
However, did the Celts arise out of the mists of Brittannia or the Pretannic Isles or did they come from further afield?  Where did they live? How did they live and die and where is the evidence for this?
The earliest known mentions of the Celts were by writers such as Herodotus, Plato, Aristotle, Xenophon and somebody we all know… Julius Caesar who also wrote about Celtic migrations and wrote of the "..inlanders, most do not sow corn, but live on milk and flesh and clothe themselves in skins".
Come along to the first talk of the 2020/21 season and enlarge your understanding of this fascinating subject.
Government Guidelines:  We very much hope that the talk is allowed to go ahead. Further information will be published on our site regarding  social distancing and other behaviours that we need to adhere to.  If in doubt please contact info@foph.co.uk.
Banner Image: We don't want to give anything away but this tantalising image of the Hochdorf Chieftan's Grave, Germany about 530 BC was too good to miss.   This chap is known as the Tutankhamun of the Celts. The reconstruction in the museum is near to the location of the original grave. Attribution: jnn95.  He is also wearing fabulous gold trimmed shoes.