Date: 16th January 2018
Times: 2:30 pm - 3:45 pm
Location: Pendle Heritage Centre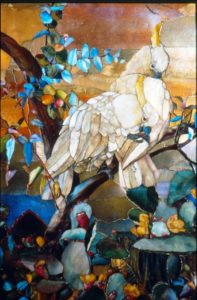 The extraordinary story of Joseph Briggs, an ordinary man from Victorian Accrington, who went off to seek his fortune in America – and as a result gave his home town Europe's biggest collection of classic Tiffany art nouveau glass, now at the Haworth Art Gallery.
Louis Comfort Tiffany began his work after apparently being influenced by Emille Galle a French Art Nouveau artisan at the 1889 Paris Exposition. Another influence was said to be Roman and Syrian glassware displayed in the V&A. Tiffany glassware renowned for its texture and luscious rich glowing colours was produced between 1878 and 1933 at Louis Tiffanys' New York workshop. It seems that Joseph was a local lad 'made good', a major contributor, confidante and highly skilled member of Louis' team of designers. Come along and be enthralled by this remarkable story told by Manchester author and researcher Douglas Jackson, based on his book Mosaic – The Story of Joseph Briggs (with a foreword by Eric Knowles).
According to Louis C. Tiffany:
"Colour is to the eye what music is to the ear".
"I have always striven to fix beauty in wood, stone, glass or pottery, in oil or watercolour by using whatever seemed fittest for the expression of beauty, that has been my creed".
The main image is by kind permission of Hermann Luyken Tiffany Glass Bank, Bainbridge, Georgia, USA