Date: 11th August 2018
Times: 10:15 am - 3:30 pm
Location: Pendle Heritage Centre
Meet at the cafe early if you want to beat the rush from the Rossendale part of Lancashire or at  10 15am.     An alternative indoor activity will be provided if the weather is inclement.
Suitable clothing and footwear for the weather and any other necessary gear, maybe a sun hat and cream? Maybe you should not wear boots like the ones on the left below!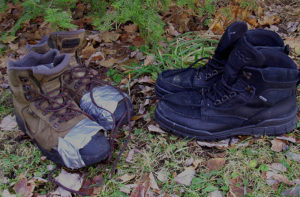 This will be a Pre History walk.  Leader: Alex Whitlock.
More details will follow.
Banner Heading: Rucksacks on Parade, Some of the essential paraphernalia of the 21st century traveller, laid out respectfully by the door of the kirk. Attribution: Anne Burgess