Date: 13th May 2020
Times: 10:00 am - 12:00 pm
Location: Pendle Heritage Centre
Well spring has sprung and we're on our way to summer, it would be good to see a good bunch of people helping  Andrea, Peter and Emma make the Heritage Garden at Park Hill look its very best. So come prepared for whatever the weather may throw at us.   Two hours out of the month is not a lot of hours to pledge but it makes a huge difference when you are part of a willing team and it will make a good impact in the garden.
Bring your own lunch and eat it in the garden or have a warm bowl of soup from the Cafe.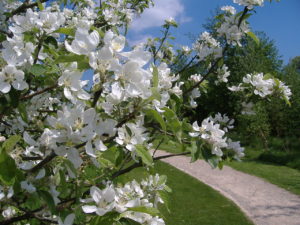 'When you're young you prefer the vulgar months, the fullness of the seasons. As you grow older you learn to like the in-between times, the months that can't make up their minds. Perhaps it's a way of admitting that things can't ever bear the same certainty again."
― Julian Barnes, Flauberts Parrot. 
Banner Image: Pink Peony grown in a Midlothian, Virginia USA backyard. Attribution:Mitzi.humphrey