Date: 12th February 2020
Times: 10:00 am - 12:00 pm
Location: Pendle Heritage Centre
It's that time of year  when everything starts to shift and the sap starts to rise in order for nature to begin to bring forth the glories of the earth.  It's also the time when Andrea and the gang, on behalf of The Friends, start working in the garden and helping Peter and Emma prepare the garden for the year ahead.
We are looking for people who can give just two hours a month to help in the garden. Of course you are welcome to contribute more hours if you  liase with Peter or Emma.  There are lots of jobs to do in order to maintain the Heritage Garden and your labour goes towards helping it  to look like something that is special in our area.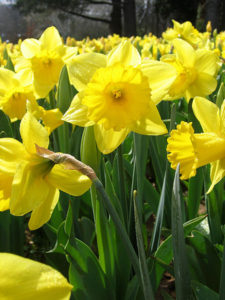 They say that gardening is good for the soul, it certainly is a wise thing to commune with nature every now and then.  So wrap up warm and bring some enthusiasm to help us get off to a good start..  You might also fancy a hearty bowl of warming soup in the Cafe afterwards.
According to Marcus Tullius Cicero "If you have a garden and a library, you have everything you need".   Well we have the garden and Nelson and Colne have the library, what else do we need!

Banner Image: Snowdrops Lothersdale Churchyard. Attribution:
T. Green