Date: 9th May 2021 - 1st July 2021
Times: 10:00 am - 12:00 pm
This group have been busy working away in many parts of the garden.   Weeding, planting, tidying.  We meet weekly and work alongside Pendle Heritage staff Peter and Emma. They have both worked hard over the winter making raised beds, improving the woodland walk, removing trees and planting up ready for summer.
Everyone is welcome to come along and join in the fun. Just two hours on a Wednesday morning on a regular basis can make all the difference for you and to the garden.   If you can't make that day/time Emma will be pleased to see what best suits you.
Why is gardening good for you?
It can help to keep your limbs and joints supple, particularly boosting hand strength, its good exercise for your heart, its good for creating a sense of calm and wellbeing which will make you feel more content.   It will give you a boost of Vitamin D.   And by having a good laugh with fellow volunteers can help to reduce stress.   What's not to like about it?  And could it be said that gardens are good for the soul?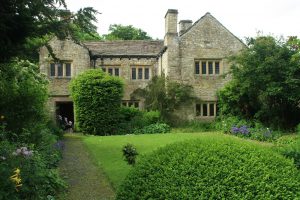 Don't forget you can relax in the cafe afterwards with a cup of tea or soup or sandwiches or whatever delicious food is on offer.
Banner Image:Forsythia. Attribution:Rdsmith4.