Date: 19th September 2021
Times: 12:30 pm - 3:30 pm
Location: Pendle Heritage Centre
On the last day of Heritage Open Days Norman Mitchell will take us on a tour of the area where Jonas Moore renowned as the Father of Time lived as a child.
He was a mathematician, surveyor and a driving force behind the establishment of the Royal Observatory at Greenwhich.  He was born and grew up at Higher White Lee Farm and attended Burnley Grammar School.  His family were connected to the Pendle Witches after 'Old Demdike' allegedly bewitched his elder brother John to death.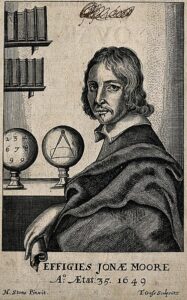 It is refreshing to know that a lad from 'oop north used his intelligence for the benefit of society and reached such a respected position in those times in London where he rubbed shoulders with the 'great and the good'.  He was a friend of Christopher Wren and Robert Hooke, he wined and dined with Samuel Pepys who hung a map of Moores' on his wall and also counted Moore as a 'worthy friend'.    Moores chief patron was James, Duke of York brother to Charles 11.  He seemed to have achieved many things in his life and published his book Arithmetick in 1650, during the founding of the Observatory he paid for equipment out of his own pocket.  Along with his son he is buried in the Tower of London.
Distance: 4 miles, descending into Sabden Fold and returning. The pace will be slow.   Terrain may be boggy in places, could be rough grass.  Some stiles.
Come suited and booted for whatever the weather throws at us.   Packed lunch.
Everyone welcome to what should be a very interesting walk about a very little known local figure.
Contact info@foph.co.uk for further info.  If uncertain on the day re the weather contact 07779506499.
Donations welcome.     Parking behind the Village Hall and roadside parking.
Banner Image: Dean Farm in the 'Hidden Valley' near Sabden. Attribution: John Darch