Date: 12th October 2019
Times: 10:30 am - 12:45 pm
Location: Pendle Heritage Centre
Meeting at Manchester Road, on the towpath, and walking to Colne Road Bridge.  We will cross the embankment or 'straight mile', pass the recently-restored dry dock, then the old Bank Hall Colliery site and end at Colne Road, at what was the terminus of the canal from 1796 to 1801. The distance, one way, is just under two miles.   Probably returning along the main road via St Peter's Church to have a look at the memorial to the wife of one of the canal's engineers and also view the lime kilns alongside the aqueduct.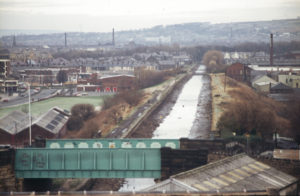 We are in for a treat and  could not have a better leader on this walk, Mike Clark is a man who has been in love with canals for over forty years and is known as Mr 'Leeds and Liverpool' and is thought of so highly by the Canal and River Trust for his work that they named a lock after him at Bank Newton – but it's in Yorkshire… we won't hold that against him though!
Built during the golden age of canal construction, the Leeds & Liverpool Canal was to be the longest in Britain. As it weaved its way north it diverted towards Burnley to connect with the expanding coal mines in the town and influenced an industrial boom.The history of the canal in Burnley is fascinating. The 'straight mile', well it isn't  quite a mile, was a seventh wonder of waterway engineering and at one time you would have been able to view well over a score of factory chimneys from there.
Pit Poetry – Bank Hall Pit Top – Burnley by Jan Ferrierr
To Bank Hall Pit Top, above the River Brun,
To the aqueduct, where the narrow boats run,
Bound for a gleaming new Jerusalern..
The poignancy here of course is that these industries have moved on and the town has never really recovered from the loss of jobs and trade.
Terrain: Well its a canal towpath! but its likely to be muddy with puddles following rain. Around two hours in total so no need for  a packed lunch, but if you're keen to do this you could eat your lunch in Thompson's Park.
Re Parking: Finsley Gate is the nearest pay and display for the Manchester Rd. bridge. (see https://www.burnley.gov.uk/sites/default/files/Burnley%20Car%20Parks.pdf)  There's not much free on street parking available.
For lots more informations see https://canalrivertrust.org.uk/enjoy-the-waterways/walking/canal-trails/burnley-trail/burnley-embankment
Banner Image: The Canal from Colne Rd. Bridge in Burnley, looking towards Daneshouse. Attribution: Mike Clark