Date: 6th September 2018
Times: 10:30 am - 12:30 pm
Location: Pendle Heritage Centre
During this Heritage Open Day week, come and join us for a guided walk around historic Higherford Mill with the very knowledgeable Frank Walsh.
Higherford Mill was built by Christopher Grimshaw as a spinning mill in 1824, close to water to harness it for powering the looms. Water was taken from the river from a weir, half a mile upstream, and channelled to a mill dam or lodge, and then through sluices or leats and then into the rear of the Mill and onto a waterwheel which then helped to turn the looms.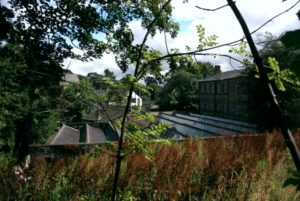 In 1832 steam power was introduced to supplement the water power and the square stone chimney was built, with a flue running up the hillside to carry the smoke away. This continued use of water power in conjunction with steam power until the late 19th c is rare, and was one of the reasons why the building was spot listed in 1996.
The Mill ceased production in 1971 and was sold. The new owner converted part of the Mill to workspace units and the rest became derelict. In December 1994 an application was submitted for consent to demolish the Mill, on the grounds that it was unsafe and full of dry rot, and planning permission to build 24 houses on the site. Villagers and Heritage Trust for the North West objected and after a five year campaign, the Trust purchased the Mill with a loan from the Architectural Heritage Fund, in 1999.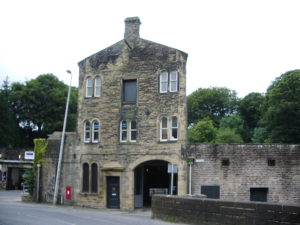 Part of the mill then become a focal point for creative workshops whose wares are sold locally and countrywide.  Rents from the studios go towards the upkeep of the mill.    The Mill was placed 2nd in the BBC competition Restoration programme in 2006.
Came along and enjoy part of your local heritage, you might be surprised to find what you can also see outside the Mill.
Cost: Free but donations welcome
You might want to enjoy lunch in the Cafe afterwards