Date: 17th March 2022
Times: 7:30 pm - 9:00 pm
Location: Pendle Heritage Centre
Come along for an evening that is connected on many levels to our local lives and definitely those of our ancestors. Cotton Town Chronicles is a folk song based presentation by Peter and Barbara Snape.  With its multi-media format, the presentation provides an introduction to life during the age when cotton and coal were king.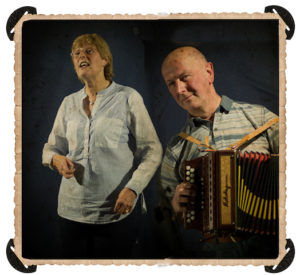 It is a journey in which key moments of social history provide the context for the song to take centre stage. Each song tells a story – it's Grease, Grit and Grime, Mills, Mines and Machinery: poverty, struggle, love, humanity and the ability to look on the bright side of life. It is  a look at Lancashire Life during this time period through a different lens, it is a social history synopsis.
It's St. Patricks Day too, our Irish millworker ancestors would have been having a knees up on this day a century ago.
Hot Supper.
Admission price to be confirmed. Please book at info@foph,co.uk
Don't forget to pay on exit from the car park on Colne Rd. Free for first hour then 50p per hour thereafter.