Date: 19th April 2018
Times: 7:30 am - 9:00 am
Location: Pendle Heritage Centre
We are sorry to have to take the unusual step of cancelling the talk on Roman Roads  this evening.
The speaker Mike Haken is ill  and he has had to give backword at short notice.
An attempt has been made to replace this with something of a similar, nature,  however despite trying two universities and many other places nothing has turned up and rather than disappoint people who are particularly expecting this subject we thought it better to cancel.
Mike may be able to come at a future date.

We hope that you will join us at our next meeting which is the AGM  on Thursday 17th May.  This will be as short as possible followed by a talk on Aspects of Pendle by Andrea Smith.   There will be a free light supper to follow.
MILLE VIAE DUCUNT HOMINES PER BAECULA ROMAN
"A thousand roads lead men forever to Rome" Alain de Lille (1175)
Latest Traffic News…
" This road network is not up to coping with present day traffic.." We are reminded about this frequently, however, we are not talking here about the M6 or any other UK motorway but the network of roads built by the Romans from AD 43.
Mike Haken is the Chairman of the Roman Roads Research Association and he will enable us to further our understanding of this important network and the latest findings in relation to Lancashire. Some of you may remember him as he has worked previously at Pendle Heritage.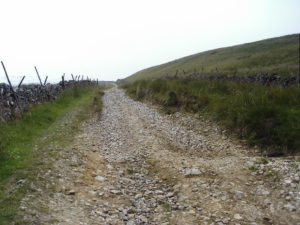 In its day and even by modern standards the Roman Road network in Brittannia was an astounding feat of engineering and is still incorporated in places into our present road infrastructure. Witness Dere Street, York, the A59 – A1. From their departure early in the 5th Century their network remained the only nationally managed highway system within Britain until the establishment of the Ministry of Transport in the early 20th century.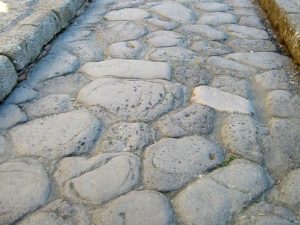 Roman Road specialists have had a busy few years. 3D Lidar imaging has enabled more roads to be identified. For example a section of the Roman road from Manchester to York, at High Moor, Saddleworth has been known about for some time from aerial photography in 1970. However recent drone images show multiple ditches and an engineered bank not in keeping with other findings, leaving the experts puzzling over the feature.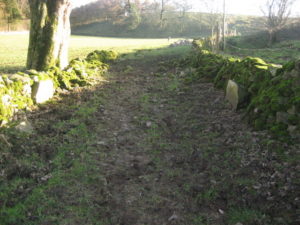 More locally, the road from Ribchester to Lancaster around Inglewhite has been finally identified.   Apparently Lancashire has some of the country's most spectacular Roman Roads, many of them set in lovely countryside and with stunning views where you can literally walk in the footsteps of the legions.
The Roman Roads Research Association was formed to advance knowledge of the Roman road network and promote the study of Roman roads and Roman heritage throughout the British Isles.
According to Robert Graves:
"The Roman Road is the greatest monument ever raised to human liberty by a noble and generous people. It runs across mountain, marsh and river. It is built broad, straight and firm. It joins city with city and nation with nation. It is tens of thousands of miles long, and always thronged with grateful travellers……".
Although it is suspected that in 71BC, the 6,000 slaves who were connected to the battles of Spartacus and were crucified along 120 miles of the Via Appia were none too grateful!