Date: 14th November 2019
Times: 7:30 pm - 9:00 pm
Location: Pendle Heritage Centre
Alan Young has been studying and photographing railway stations in Britain and Ireland since the early 1960s and he will give us a photographic guided tour of stations which have closed in Pendle and the neighbouring area: whilst there will be an emphasis on Pendle, the survey will stretch as far as the northern edge of Manchester, the Fylde, Ilkley and Halifax.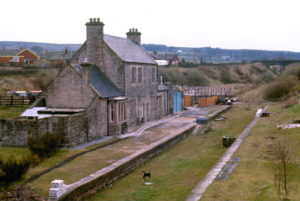 The passenger railway system in Britain spread rapidly but in a somewhat haphazard manner from the 1820s until World War I. Although there were a few closures even before 1860, the shrinkage of the network and closure of stations began to be significant around 1930. After a period of stability closures resumed after World War II, gathering pace in the 1950s, then the much maligned 'Beeching Plan' of 1963 unleashed a frenzy of closures. In the early 1970s the closure of lines and stations almost ceased, and since that time the trend has reversed, with several hundred stations opening or reopening and some substantial lengths of railway reinstated (including Rose Grove to Hebden Bridge in 1984). Competition from road transport – electric trams, then motor buses and private cars – and major improvements to the road network during the twentieth century provide the most obvious, but not the only, reason for the loss of so many of our railway lines and stations.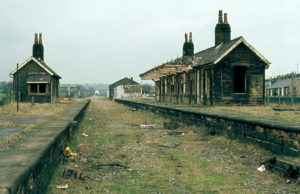 Dr Richard (later Lord) Beeching is often wrongly blamed for all railway closures, and within twenty miles of Pendle Heritage Centre the bulk of passenger railway and station closures took place before his intervention. Before World War II Longridge lost its trains; Rochdale to Bacup lasted only until 1947 one of its stations (Britannia) having closed as early as 1917. Bott Lane, the nearest station, as the crow flies, to Pendle Heritage Centre closed in 1956 followed by the Padiham Loop in 1957, Blackburn to Chorley and Wigan in 1960 and Blackburn to Clitheroe and Hellifield in 1962. The Barnoldswick branch and the lines from Bury to Bacup and Accrington survived long enough for Dr Beeching to propose their closure, which soon took place. Curiously Beeching did not recommend withdrawal of Colne to Earby and Skipton services (only Thornton-in-Craven station would close) but the service was nevertheless extinguished in 1970. The proposed reopening of this line is a lively local issue in 2019.
What remains of the local closed stations? Sadly, very little. Even some of the operational stations, such as Colne, have been simplified beyond recognition. Most of the closed local stations were of limited architectural merit and few of their buildings were considered worthy of conversion to residential or commercial uses. The three Padiham Loop stations and the four between Colne and Skipton have been razed (though the building from Foulridge has been lovingly reconstructed on the preserved Worth Valley Railway near Keighley). In contrast, in rural Northumberland eleven stations, most of them closed for almost ninety years, but all of them elegantly designed, survive between Alnwick and Coldstream.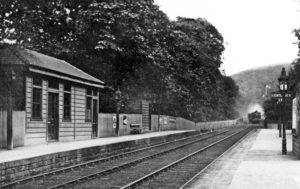 Alan has written several books on railways in northern England, most recently Lost stations of Yorkshire, in two volumes, one of which has a chapter devoted to Earby. He is also a member of the team that compiles the Disused Stations website having himself produced the local features on Colne to Skipton, Rose Grove to Hebden Bridge, Bacup to Rochdale and Bury and the Micklehurst Loop (Diggle to Stalybridge) as well as on Bott Lane and a history of Catlow Quarries near Nelson. Which means we will be listening to an expert and benefitting from his experience and past work.
Banner Image: Great Harwood [2] 1952 (John Mann collection)
Cost: Members £3.00 Non-members  £4.50     Refreshments provided