Date: 1st August 2020
Times: 10:30 am - 3:30 pm
Location: Pendle Heritage Centre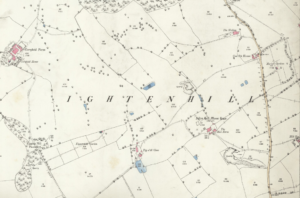 If you interested in things mediaeval then come along as we view the site of the lost Manor House at Ighten Hill, Burnley.

Ighten Manor has a place in local history and royal connections. Built in around 1180 by the Normans it was a local unit of government where the steward would have presided over the law courts and the constable would have collected fines. Originally owned by the powerful de Lacy family who fought alongside William the Conqueror and then reclaimed by them in the 12th Century. They maintained their royal connections, Henry de Lacy became Protector of the Realm when Edward 1 was busy fighting the Welsh and Scots.

Another royal link was established when   Edward 11 stayed there whilst dealing with the aftermath of the rebellion of his cousin the Duke of Lancaster.
There are commanding views over the surrounding countryside and what would have been the Forest of Pendle, we will look across to Filly Close probably so named as the Manor House was also thought to be the site of the Stud Farm. We hope to pursue these things further.
When we look across to Filly Close we will observe the second part of the walk across the Calder, which will be led by another member. Filly Close was said by Whitaker to be 'the flower of the Forest of Pendle'. The stud is also thought to have had royal connections.
Please email to  info@foph.co.uk  to indicate if you would like to attend and we will send you further information about a reappraisal of the history and archaeology of the Manor House.
We aim to limit numbers to groups of six and observe social distancing, so it is a first come, first served basis.
Hand sanitiser is required, gloves or a plastic bag are also useful at stiles and gates.
Images of the Manor House site and Manor House Farm. Attribution: Trappedinburnly.