Date: 9th November 2019
Times: 10:00 am - 4:10 pm
Location: Pendle Heritage Centre
 The Friends of Pendle Heritage and Pendle Archaeology Group
Maps of prehistoric sites in the NW appear to show a void. Slowly the land is giving up its secrets and the work and findings of the speakers in this programme will challenge the accepted views of prehistory in the NW.   We have interesting sites and knowledgeable presenters on this our first Prehistory Study Day.
10.00am.  Rick Peterson: Introduction: Recent research on the Bronze Age in the North West
Abstract:  Our excavations at Fairy Holes Cave showed that the collared urn recovered by Musson in 1946 was part of an Early Bronze Age burial. At the Whitewell Enclosure radiocarbon evidence showed that the ditches and pits were in use at least from the Early Bronze Age and were still visible in the Later Bronze Age. The New Laund Enclosure, in contrast, has been shown to be Middle Iron Age. Both the enclosure ditch and the roundhouse in the centre of the enclosure have radiocarbon dates between 395 and 210 BC.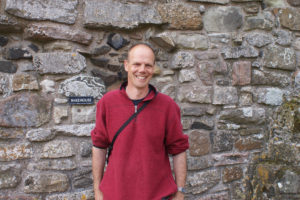 Profile: Rick is a Senior Lecturer in Archaeology at the University of Central Lancashire in Preston.
10.45   Kevin Grice: Warton Crag: Re-appraising an Iron Age Hill Fort
Abstract: Kevin will discuss recent research conducted with Morecambe Bay Partnership on the Iron Age hill fort on Warton Crag. By discussing both the antiquarian and twentieth-century documentary sources and evaluating the results of recent LiDAR imaging and contrasting the different views on the possible date and function of the monument including modern re-interpretations. Kevin will conclude that its dating may be more complex than previously thought and he will set out an alternative hypothesis and suggest further investigations.
Profile: Kevin is a Morecambe Bay Community Archaeology Volunteer, a member of the Lake District National Park Archaeology Network, Secretary of Kendal Historical & Archaeological Society and a member of the Council of the Cumberland & Westmorland Antiquarian and Archaeological Society. He has researched and excavated prehistoric, Roman, medieval and more modern industrial sites in Cumbria and Lancashire and has a particular interest in the prehistory of Cumbria and North Lancashire.
Also: Lidar video and display of Warton Hill in the foyer by Louise Martin,  H2H Cultural Heritage Officer, Morecambe Bay Partnership.

11.45     Debbie Hallam: Searching for Neolithic settlement in the Yorkshire Dales
Abstract: The Neolithic archaeology of the Yorkshire Dales is often difficult to unpick from the palimpsest of later habitation and land use and the identification of settlement of this period (4000-2500 cal. BC) is notoriously ephemeral. That it exists however is without question as evidenced by the abundant frequency of discrete surface finds of pottery and multi-period lithic artefacts collected over the years resulting in an assemblage comprising over 65000 pieces. Using the patterns of distribution of material culture as primary evidence for settlement, it is possible to see the Upper Wharfe Valley as a focal area for small Neolithic groups following a pastoral lifestyle supplemented by hunting and gathering.Recent excavation of an Early Neolithic house near Grassington indicates a more settled existence in Wharfedale as early as 3650 cal. BC and the discovery of two Late Neolithic-Bronze Age Henges in the Wharfe Valley add support for an expanding community adhering to monumental building styles seen beyond the area.
Using Upper Wharfedale as a focal point for the discussion of evidence for Neolithic presence, comparisons will be made with areas of archaeological interest at the periphery of the Dales such as Nidderdale, Wensleydale and the Inglebrough massif.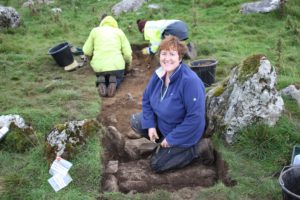 Profile: Debbie is a mature student and has gained a BA (Hons) and MPhil from the University of Bradford where she has specialised in the research of prehistoric pottery. Her MPhil comprised a study of over 250 Early Bronze Age Funerary Cups from northern Britain and her interest in the Neolithic and Early Bronze Age periods and a love of the Yorkshire Dales landscape has resulted in her current PhD project at Bradford University.
13.30   Dr. Kevin Cootes: Illuminating Lowland Iron Age Border Settlement in North-West England: The Poulton Research Project
Abstract: Lowland North-West England is not traditionally a region which occupies the minds of researchers investigating the British Iron Age. A review of the national literature suggests few identified sites, low population density and little social stratification. In spite of the presence of multiple hillforts and local specialist research this view prevails, but is it accurate? Archaeological investigations at Poulton in Cheshire have revealed a settlement which challenges such models, comprising roundhouse gullies spanning eight centuries of habitation. The accompanying material assemblage is characteristic of status, with burial, industrial activity and ritual practices all represented. The site was ideal due to its position adjacent to the River Dee, overlooking a defensible floodplain which enabled a mixed farming regime. Additionally, water-courses often served as boundaries between tribal entities. The overall results have the potential to serve as a type site, revealing similar settlements and illuminating the Iron Age in North-West England.
Profile:  Kevin is a Consultant Archaeologist for the Poulton Research Project and Senior Researcher at Liverpool John Moores University.
14.15  Dr Sam Walsh:  Bronze Age burials in and around Lancashire
Abstract:   Our understanding of prehistoric burial practices in the UK is predisposed/biased towards areas where there have been a high frequency of modern excavations and research activities. This has led to gaps in archaeological data which have been interpreted as lack of activity in some areas, or this lack is acknowledged but not addressed. In comparison to adjacent regions such as Cumbria and Yorkshire, little is known of Bronze Age and other prehistoric burials in Lancashire and the wider North West due to a lack of modern excavations and high levels of past industrialisation in this area. I will talk about the results of my research on the Bronze Age burials of Lancashire and around.
This will include discussion of burial practices, grave goods, demography, health and disease from sites including Whitelow, Astley Hall, and Pendleton.
Profile:  Sam is from Preston and completed her PhD at the University of Central Lancashire. This was a study of human remains from Bronze Age burial sites in northern England. Since then she has continued work on Bronze Age remains in Lancashire through excavation of a site near Morecambe and also through recent analysis of human remains held at Lancashire Museum stores and Astley Hall. Sam has worked in UK field archaeology and is currently working on Neolithic human remains from Iraqi Kurdistan as part of a project with the University of Reading.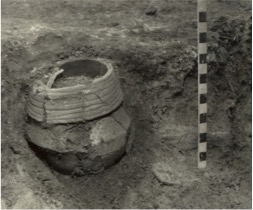 15.30  Mike Woods:  Water Meetings Iron Age Hill Fort and Landscape Surveys around Pendle
Abstract: Mike carried out a number of surveys across Pendle and the surrounding landscape between 2015 and 2019, the results of which discovered that the site of Watermeetings is a large Iron Age hillfort. Mike will present this discovery alongside the results of landscape survey across Pendle, which shows evidence for how the ancestors lived and used the landscape towards the end of the prehistoric period.
Profile: Mike Woods is a Landscape Archaeologist,Geophysicist and Prehistorian based in Lancashire. His research has focused on prehistoric sites across the North of England and Wales, including the henge landscape of Northumberland, Neolithic passage tombs and stone circles on Anglesey and Bronze Age burial monuments, Iron Age hillforts and a 17th century witches house at Pendle near Lancashire.
Catherine Rousseau Jones: Excavation on Calf Hill above Sabden on the flanks of Pendle Hill
Abstract:Following initial surveys in 2018,  Pendle Archaeology Group's current excavations on Calf Hill above Sabden are revealing some interesting discoveries. Although initial studies suggested medieval origins for the site, further investigations have revealed much older occupation.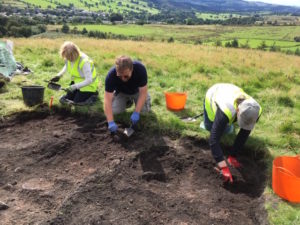 Profile: Catherine  completed a degree in Archaeology at the University of York and is a voluntary archaeologist and Chair of Pendle Archaeology Group.
Close at 16.10

Banner Image this page: Lancashire, Early BA flat axes. Attribution: Portable Antiquities Scheme. Ian Richardson.
Banner Image Page 3: Mid bronze-age cremation urn, found in Roxton Bedfordshire. In the stores of Bedford Museum. Courtesy of Simon Speed. In the public domain.
Image this page; Digging on Calf Hill 2019. Attribution: Roger Grimshaw
Layout: Apologies, Gremlins at work!