Date: 15th January 2019
Times: 2:30 pm - 3:45 pm
Location: Pendle Heritage Centre
Harold Hoggarth returns to entertain and inform the Friends of Pendle Heritage with the tale of local women among them Selina Cooper, Katherine Glasier and Ethel Snowden who were involved in the fight for women's suffrage.    Selina Cooper was a  remarkable woman and a principal warrior in this struggle and all local girls and women and men would do well to inform themselves of the the effort she and others expended in order to start the move to equality between men and women.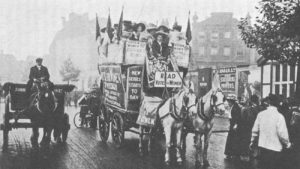 Although Selina was born in Cornwall she became a local trade union activist after starting full time work in the mills in Barnoldswick at the age of thirteen after her father died. She took practical courses in laundry, hygiene and first aid.  She joined the Women's Co-operative Guild in 1897 and the North of England Society for Women's Suffrage in 1900. As the movement grew she was at the forefront of the struggle alongside better known figures such as Emmeline Pankhurst. Selina was one of 16 working women who presented a petition of 80,000 signatures to Parliament in 1906. By 1910 she was chosen to be one of four women to present the case for Women's Suffrage to Herbert Asquith the Prime Minister.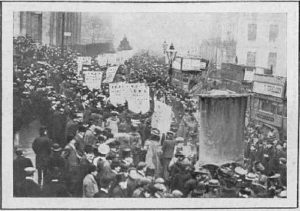 After the initial struggle she became active in local social issues such as the Nelson Education, Health Insurance and Public Assistance Committees and became a JP.  She instigated and developed the first ever Maternity Centre in Nelson. Her house at 59 St Mary's St. Nelson is marked with a blue heritage plaque. It could be said that we owe part of our present day health and wellbeing both locally and nationally to her and others,  their legacy to us was a gift that cannot be lightly dismissed and there are some local people who are justifiably proud of them.
It seems that Selina was a suffragist not a suffragette, Harold will no doubt enlighten us as he discusses these admirable local heroines or should it be heroes!
According to  Jonathan Lockwood Huie     "To lead a great life: Dream, Take Action, Repeat"  Selina Cooper and her like did this 'in spades'.
And did you know that:
There is or was a substantial difference in coronary heart disease mortality rates between Nelson and Burnley in the 1970's.   There are a variety of factors at play here, however, a significant factor is the health of your grandmother when she was pregnant with your mother.  Healthy grandmother, healthy mother, healthy child.  As Burnley does not appear to have been lucky enough to experience individuals like Selena and her friends who promoted maternal health there is a good chance if you and your mother were born in Nelson your longevity is due to in part to the hard work and influence of Selina.
See Jill Liddington's book, The Life and Times of a Respectable Rebel: Selina Cooper 1864-1946, you may only be able to access a library copy or see http://spartacus-educational.com/Wcooper.htm amongst other sources.