Date: 8th February 2021 - 30th April 2021
Times: 12:00 pm - 11:45 am
Organiser: Friends of Pendle Heritage
Well what a past twelve months this has been, however,  we have we the joys of anticipation – of vaccines, of good weather and possibly meeting up at some point this year. Spring  really is around the corner, the snowdrops are out, cyclamen too, the daffodils are pushing up, the mornings and evenings are lighter  and  a hint of  birdsong can be heard and as soon as we are able we will provide members and guests with things to do.
We have asked for someone to host Zoom meetings and we hope that somebody will come forward to help us in this, so speakers who we booked last year or newer speakers can still entertain us with various aspects of our rich heritage.
You may remember we had booked Roger Martlew to talk about the Celtic Cowboys, the  cattle ranchers of Iron Age Britain.  Lancashire Wildlife Trust were coming to talk about their work.  Peter and Barbara Snape were bringing us Cotton Town Chronicles with music and poetry which fitted nicely with Stephen Irwin's talk on the Cotton Famine.    A talk on Mediaeval Bridges by Chris Hudson was also in the pipeline along with Andrea Smith's Pendle in Particular. At christmas we would have had the joy of listening to Sue Allonby's Christmassy Tales.
We still hope to bring you  some of these via Zoom or when we can open up the Barn  for talks again.   It looks very much like our Residential Trip to Northumberland will take place now in Spring 2022, however, perhaps the social situation  will allow us to have a day trip in late Autumn.   As you know everything is on hold and depends on government guidelines. Our trip to the Himalayan Gardens and Sculpture Park near Ripon has also been rearranged for next Spring when the azaleas will be at their best.
As soon as they are able the the archaelogy group – PAG will take people in small groups to the site of Ightenhill Manor house to discuss and compare David Taylor's work on the Manor house and the putative stabling arrangements and Ian Rowley's work on the fields near Filly Close.   The group also want to introduce people to surveying and recording the Roman Road from Downham to the A 682 to Gisburn.
Although we still face the unknown, hope and spring is eternal… and just around the corner.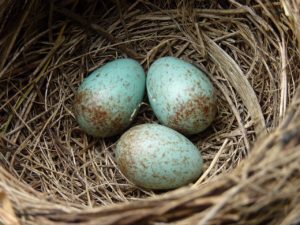 Banner Image: Quote from Patience Strong, Welsh primroses Public Domain.