Date: 14th January 2020
Times: 2:30 pm - 3:45 pm
Location: Pendle Heritage Centre
Needle and thread has been used for millennia for practical daily use but also to record events and personal stories. We are pleased to welcome back Denise North when she returns to give us a talk on Stitches in Time, apparently a talk that men find very interesting too.
History and sewing crosses centuries and continents telling the stories of men and women, societies, battles and working lives. People use stitches to make their voices heard even in desperate circumstances such as the sewing of soldiers in WW 1.
One famous story that springs easily to mind is the Bayeux Tapestry, stitched by anonymous people, it is political in nature, history belonging to the victors. (See Banner Image: Fleeing. Public domain)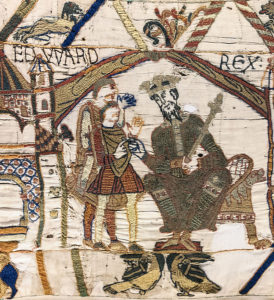 From beautiful mediaeval tapestries to Mary Queen of Scots stitching which was said to be treasonous, up to the banners used in Marches of the Trade Unions in the 19th and 20th centuries, demonstrating a variety of occupations, to religious banners and the Anti nuclear banners of the Greenham Common women.   Through craft and artistry we learn of protest, memory and identity.
Sewing needles were used as long ago as seventeen thousand BC made of bone and used to sew skin and furs for clothing and daily utility items. By 1200 buttons and button holes were becoming popular in Europe due to contact with other cultures in the Crusades. This driving force enabled the clothing industry to flourish in Europe. By 1730 Aachen in Germany (the burial place of Charlemagne) was the site of an early needle factory.
Come along to the first talk of 2020 and see how it all holds together.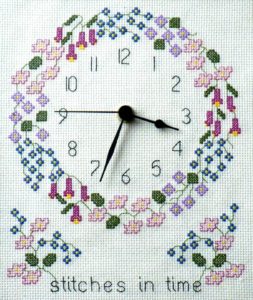 CAR PARKING: Please be aware that this is free for the first hour, thereafter 50p per hour, pay on exit.