Date: 15th February 2022
Times: 2:00 pm - 3:30 pm
Location: Pendle Heritage Centre
Steve is a Lancashire based historian and author, this talk will be "A very personal account of my life in Lancashire since the 1950's – from schooldays through to my business career, plus 30 years as a football Referee and my interest in the First World War".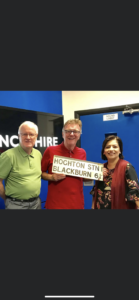 So come along and listen to what life was like for him when he also talks about social history, steam railways and travel.
Admission: Members £3 00.  Guests £4 50.
Car Parking on Colne Rd. Free for first hour then 50p per hour thereafter. Pay on exit.