Date: 19th May 2022
Times: 7:30 pm - 9:00 pm
Location: Pendle Heritage Centre
Dr Roger Martlew will introduce us to the  oak log coffin burial first excavated in 1864 from a ditched round barrow at Scale House near Rylstone in the Yorkshire Dales.  The body has not been preserved but was wrapped in a wool textile, radio carbon dating of the coffin and a piece of textile confirmed that it was Early Bronze Age (EBA). Other similar burials turned out to be of a much later date.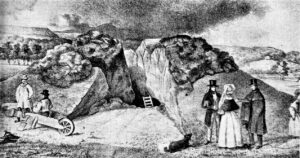 This burial is thought to be one of only two sites in Britain and is thought to be unparalleled elsewhere in NW Europe.   Roger will illustrate insights into the new techniques used for examining material that has been kept in museums for many years.  He will build on published accounts casting a critical eye over current understandings in what is a relatively local area.
Come along to the last talk of the season and be inspired by these findings.
Admission: Members £3 00  Guests £4 50p.
Car park on Colne Rd. Free for first hour, then 50p per hour. Pay on exit.
Banner Image: The Rylstone Bronze Age Barrow. Attribution: Roger Martlew