Date: 27th October 2022
Times: 7:30 pm - 9:00 pm
NB Change of Venue. Sadly we can no longer use the Barn at the Heritage Centre and will move to Higherford Methodist Church where we hope to continue to enjoy meeting up with everybody.  (6 Deepdale Green, Barrowford. BB9 8TB).  There is a small car park and the car park at the Heritage Centre will still be available.

Vera Brearey had an idea for a project which turned into a book and now she will give us a talk on Old Road in Thornton in Craven.
One end of the lane is pretty much directly on the route of the Roman military road from Ribchester to York and faint traces can be seen approaching the Roman fort at Elslack.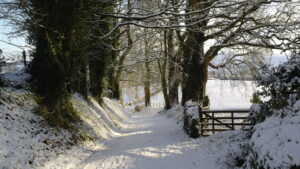 Her story also involves the people that lived there especially in Throstles Nest, a prominent house. Worsted woollen cloth and cotton was made around the area and there were spinners and weavers. The family at the house were Quakers and had to pay fines for not attending church by giving oats from the farmland instead of money.   One member of the Wilson family was part of a group of  Victorian gentlemen astronomers.
Vera also researched the tramp weavers or itinerant mill workers who would turn up each day to see if there was work if regular workers were off sick.  Being five minutes late meant that pay was docked for the day.   Harsh times then.
Vera's book will also be on sale £5.
The evening will start with a very swift AGM.
Free Admission.
Banner Image: Old Road, Thornton in Craven. Courtesy of Vera Brearey.