Date: 16th October 2018
Times: 2:30 pm - 3:30 pm
Location: Pendle Heritage Centre
Having seen David Joy speak, I can heartily recommend him both as a speaker and because the story of the Liverpool Cowkeepers is a truly fascinating local and social history both of the area and cow keeping and his family involvement in the dairy business.
David felt compelled to make it the subject of his second book. It is the story of his family who lived in Hebden and the many families like his who, in the mid-1800s, left their farms in the Yorkshire Dales and relocated to the city of Liverpool in order to keep cows in their back yards and to sell fresh milk to a booming industrial po
pulation.  Although we live in what was a heavy industrialised area we were and are lucky in north east Lancashire to be surrounded by green fields and hills and to have fresh milk from the farms, however it wasn't so easy in Garston, Liverpool due to the rapid expansion of housing and industry. Cows were seen in this locality not in fields but at the end of the street or next door in the Wellington Dairy.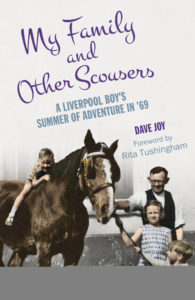 It seems that after David retired he researched his family history and reflecting back on what must have been a wonderful childhood he decided to continue researching whilst waiting for his first book My Family and Other Scousers to be published. Rita Tushingham found this book to be filled with "such charm and innocence" and "a pleasure to read".
He came to realise that although this book marked a very early chapter in his life, it also represented the final chapter of a way of life that had stretched back over some 150 years.
David spent a number of years researching the topic, searching out published and unpublished works, scrutinising archived newspapers and official documents and talking with people who had their own memories of cows being kept in Liverpool. His book, Liverpool Cowkeepers, is lavishly illustrated with photos both from his family collection and from the collections of others.  He also has a dedicated web site, should you wish to read more about his books or about the history of the Liverpool Cowkeepers. (www.davejoy-author.com)
This is what they say:
"Do what you love to do, and be around things that make you smile. The cows make me smile every day." – David Jackson, Bentwood Dairy
Dairy farming is thousands of years old, Virgil is said to have written, "the farmers would count themselves lucky, if they only knew how good they had it.." (or words to that effect in Latin).   It is doubtful whether most farmers in Europe would agree with him today.   Although, the following quotes, though seemingly out of date, may yet hold resonance in a post modern world.
"The welfare of the farmer is vital to that of the whole country. The prosperity of the country rests peculiarly upon the prosperity of agriculture."  President William Taft
"Agriculture is our wisest pursuit, because it will in the end contribute most to real wealth, good morals and happiness."           President Thomas Jefferson
More locally we have a local farmer Bobby Gill of Cockshutts Farm, Heyhouses Sabden, who is helping the group with research of the old area round Sabden and Pendle Hill.  Bobby is no slouch, his farm is one of very few in the area to supply fresh organic milk straight to the public via a vending machine.  See https://www.google.com/search?q=milk+from+cockshutts+farm+sabden&ie=utf-8&oe=utf-8&..