Date: 25th March 2022
Times: 11:00 am - 3:00 pm
Location: Pendle Heritage Centre
It's a trip to somewhere on our doorstep  and an excellent opportunity to re aquaint ourselves or for newcomers to learn about our local heritage, this will be particularly interesting for mediaeval vernacular specialists.  We will meet in the Abbey car park at 11am then move to look at the exterior of the Lay Brothers Dormitory  one of the finest upstanding examples in the country and will then look at the East Gateway – another gem.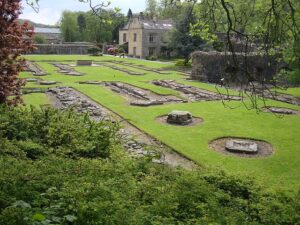 After examining the fine remains of this 13th century Cistertian Abbey which is scheduled as an Ancient Monument and a Grade 1 listed building, we will have a 12 30pm sandwich lunch* in the Conference Centre. This is what was left of the Abbots Lodging after the Dissolution of the Monasteries by Henry VIII but has been altered and added to over the years.
After lunch – 1 30pm, we will have a guided tour of 13th century Whalley Parish Church of St. Michael and All Saints. An earlierAnglo Saxon church may have been on this site. It is mentioned in the Domesday book and was said to be one of the wealthiest in Lancashire.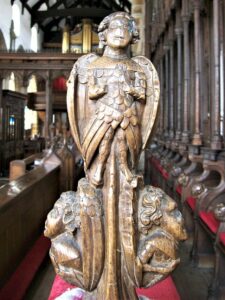 This is another gem for mediaevelists. Some of the best ecclesiastical seating, "beautifully executed" and cheeky misericords, a chantry chapel, a piscina with an ogee shaped head, rood loft and St Anton's Cage amongst other interesting features.
So come and join us  * Sandwich lunch in the Refectory is £8.50p. Pre booking essential, contact info@foph.co.uk. There are eating places available nearby and you can bring your own lunch but it will be good to get together and have a natter whilst supporting Whalley Abbey at the same time.
Some uneven ground in places, may be slippy. Everyone welcome.
Banner Image: Whalley Abbey. Attribution: Craig Thornber
Parking: In the abbey grounds or along the Sands.