Date: 13th August 2022
Times: 1:30 pm - 3:30 pm
Location: Pendle Heritage Centre
Come with us to examine the heritage of Barnolswick, it hidden gems and interesting nuggets of information.
Barnoldswick dates back to Anglo Saxon times. It was listed in the Domesday Book as Bernulfesuuic, meaning "Bernulf's Town". Uuic is apparently an old spelling of wick… meaning settlement. An abbey was founded there in 1147 apparently due to the fact that when Henry de Lacy fell ill he swore he would build a monastary to the Glory of God and St. Mary if he recovered.   He went on to choose the site of Bernolfeswic.
Twelve Cistercian monks came from Fountains Abbey bringing with them ten lay brothers who began to build on St. Mary's Mount.  They left after six years driven out by locals unhappy at their interference and crop failures.   They went on to build Kirkstall Abbey.
Until the Industrial Revolution the village remained small but the arrival of the Leeds and Liverpool Canal and the railway all helped it to become a major cotton town.   Bancroft Mill is now a tourist attraction as it houses a 600hp steam engine which is still operational.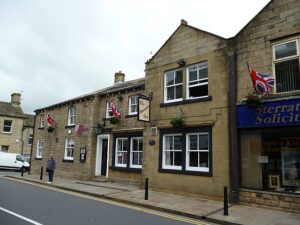 Come suited and booted for the weather. Some steps, some uneven ground.
Meet 1 30pm in the Town Square
For further information contact us on info@foph.co.uk
Banner Image: Walmsgate, Barnoldswick.  Attribution: Dr Neil Clifton