Please note change of date from the 19th April!
Andrea Smith returns to regale us with her considerable knowledge about the canal network.  This time she will tell us about the history of the Leeds and Liverpool canal and its importance in local history and the development of trade which is a significant part of our local heritage and one that is still highly visible today.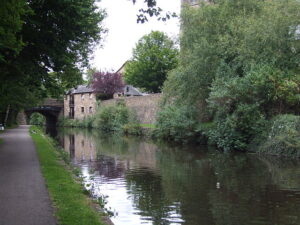 Whilst the tow paths a hundred and fifty years ago were peopled with working horses and barge people today they form part of a pleasant walk or running or cycling track for local residents.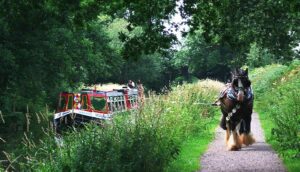 The canal network was initially a trading network, limestone was needed for mortar and agriculture in Yorkshire and the textile mills sprang up next to the canals for ease of trade, the water from the canal also helped to cool the engines.  Coal was also an important part of this story. So come along and find out more you might be surprised at what you learn.
Did you know?
It was lime mortar that enabled houses to rise to two storeys in height, that is another significant use of the transport network and development.
Cost: Members £3.  Non members £4.50
Parking on Colne Rd. Free for first hour then 50p per hour thereafter. Pay on exit.
Banner Image: From Colne Rd. Burnley. Courtesy of Mike Clark