A good group of people visited this gem of a mediaeval Manor House, we were welcomed and given a tour by the owners whose family have lovingly restored and refurbished this charming house over the past fifty years.
The house has undergone C16 and C17 alterations and additions. There is a T shaped plan, with remains of a service end of a mediaeval hall and a gabled service wing with a three bayed cross wing. The Hesketh arms are depicted on a stone panel containing an eagle displaying two heads.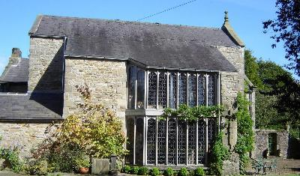 Two lovely arched doorways, possibly mediaeval are thought to be two of three serving doors for the Hall  and were thought to be hidden by a large screen (a screen passage) and would have acted the same as restaraunt doors today, in and out.
Parts of the building in the East wing, show the original timber frames in a plastered wall. We also saw  king trusses, stone plinths, chamfered mullion windows, a deeply recessed fireplace and there is perhaps a bressamer beam in the loft.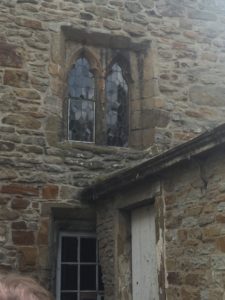 After a welcome cup of tea we climbed up onto the railway viaduct and saw the meander of the Calder river and viewed Martholme from above set in what was the Manor of Great Harwood, accompanied by swallows or were they house martins! swifts and a heron.
A very pleasant afternoon.
Did you know?
That the road to the entrance was  deliberately designed not to be straight but to be aligned offset in order that travellers could be seen approaching from a downstairs window. Was this in order that the gatekeeper could be gainfully employed whilst on the lookout for guests?
Pevsner visited here and can be remembered by the present owners.
The moat which surrounded the manor has been filled in but still fills in heavy rainfall.
Banner Image: Gatehouse to Martholme Manor. Attribution: Ian Fairclough. GHHS