If you looked through any window of the Barn at the Garden Event on August 6th – yeah
What did you see?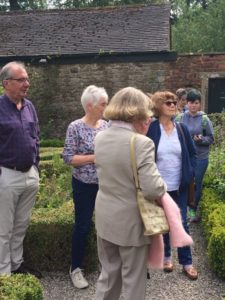 People moving round the highways and the byways of the 18th Century Walled Garden
Where did they go?
For Strawberry Teas and to visit Harry with his bees
Sandra and her flowers, Pat and her Bargeware
There were smiling faces all around – when people won on the chocolate tombola
You would have seen Andrea, Jean, Barbara, Miriam, Lynn, Sue and Susan, Roger, Francis, Pearl and Pam, Alan and Martha – rushing through the busy town – well not so much Roger!  They volunteered and moved on their way and helped to raise ££344.80 for the Garden.
Helped of course by our local star Bobby Elliot of the Hollies  – with their shy ways     ..Ouch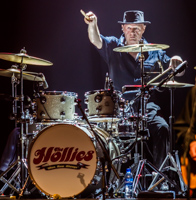 A Great Big Thankyou to Bobby for lending his support and all those who donated to the Chocolate Tombola Stall, Harry and Carole – the Bee People – it was buzzing upstairs! Sandra Pickup, Pat Rothwell, Barrowford in Bloom and all those who volunteered their services.
Oh, and we did have live music but it wasn't The Hollies, it was the lovely and talented Martha Hardman on her oboe, that added a certain je ne sais quoi which made the day more atmospheric and enjoyable. Thanks again Martha.
With apologies to the Hollies and their aficionados for strangling "Look through any Window"!