A Bakers dozen joined in the walk around this interesting village looking at features of vernacular architecture for example drip mouldings, chamfered mullions, date stones, moulded eaves. Some houses round the east green were in the style of the railway houses along the Settle Carlisle railway.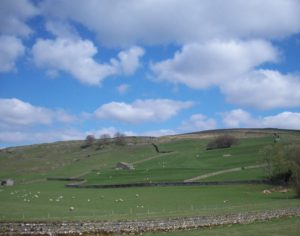 We started off looking at the field lynchets on both sides of the main road and observing the position of Raines Barn and cottage at the edge of the village. Like many Yorkshire villages Stainforth has a mix of housing built over four centuries. prominent houses built in the 19th Century as well as those built earlier in the 17th and 18th Centuries.
Along the way we saw bee boles, the remains of the stocks, the sites of both the schools now sadly defunct, a Ladies walk, stepping stones, coach houses and artist studio, slaughter house, hennery piggery, village Institute, the old village fountain, sites of old mills, dye houses and tenter field, cat steps, packhorse bridge, the pub – Craven Heifer formerly the Pack Horse Inn. Old barns and farm houses were also inspected … I could go on…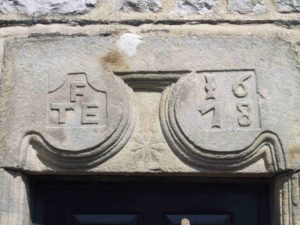 Stainforth is split into two parishes. Stainforth and Little Stainforth or Knight Stainforth which is across the river over an attractive single track bridge where nearby the old corn mill was sited for the village. After lunch we completed the tour and visited Knight Stainforth.  The Hall and cottage here were apparently built in 1672, this is another interesting building.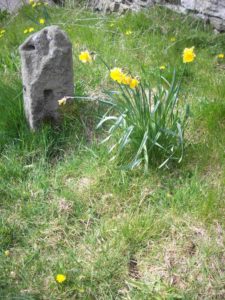 Notable people connected to the villages are Roger de Poitou, although he held the land and never visited. When his land was forfeited it came into the hands of the de Percy's and thence into Monastic hands via Sawley Abbey. The Tempest and Darcy families also lived there. Sir Richard Tempest b. 1425 fought in the Wars of the Roses, a later Richard Tempest ended up being buried in Giggleswick church alongside his two wives and the head of his horse! Samuel Watson an apparently notable and intransigent local figure became a Quaker and the Hall became licensed as a Quaker Meeting House.   The Hall appears to have been in the hands of the Maudsley family for around 170 years now. One Henry Maudsley helped to start and fund the world renowned Maudsley Hospital in London at the beginning of the 20th C.
We received a warm welcome from some of the residents of the village and the area is well worth another visit.  After running out of time to the Hofmann Kiln at Langcliffe and visit Victoria Cave we did find time for the usual tea and cream scones before we we wended our way home.
Did you know?
The Maudsley Hospital has had a pick axe on its coat of arms since 1985 – a nod to the symbol that is on the Maudsley coat of arms at the Hall at Knight Stainforth.