David Taylor took us on an interesting tour around the village of Wycoller. We learned about the pastoral pre history of the early settlement and also mediaeval and later history.   Henry de Lacey set up the vaccary system in areas of north east Lancashire and one included Trawden and naturally Wycoller.  After his demise the character of the land changed to sheep farming rather than cattle.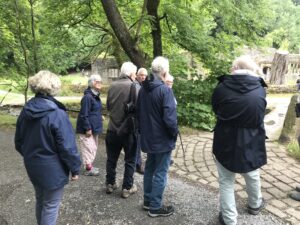 We saw bridges – pack horse, clam and clapper bridges, holloways, old fish ponds, cock pit site and the hot house site that was previously excavated by the archaeology group.  A good example of a tudor doorway at Wycoller house that was formerly three cottages, wuzzing holes, site of the old bobbin mill were also things among many other interesting features that were identified.
The rain kept off and the bonus was the scones and ice creams, all in all a pleasant afternoon.