At Higher White Lee farm we dug down and deeper and down and found what appeared to be an early drain.  In it was found two pieces of sea shell – a mussel and a cockle, which suggests it came from a high status building. Some early pot was also found. However, the age of the drain is yet to be determined.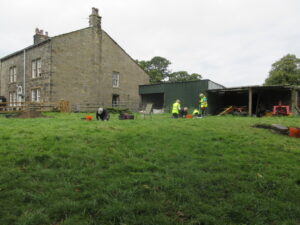 A further trench found evidence of a house and also the other end of the drain which we had seen previously and again more evidence of shell fish was found.  We found lots of C20th pottery and some of earlier origin.   More research should reveal details of the house and hopefully will support our supposition of late medieval activity on the site.
On the Wednesday we were visited by students and tutors from Burnley College who were getting hands on experience in order to help them gain insight into practical archaeology.
The weather was good and we had willing helpers so all in all a successful dig.   We were surrounded by hoards of ladybirds, Bob the dog and the kittens were joyful additions too.
Thanks to Huntroyde Estate and the farmer.
Banner Image: Burnley College Students at the Higher White Lee Dig 2022. Attribution: Daniella Tumler