Date: 8th June 2022
Times: 1:30 pm - 3:30 pm
Location: Pendle Heritage Centre
Come with us to visit something unique, the last surviving 19th Century steam powered weaving mill in the world.    This Grade 1 listed building has a mighty steam engine re named Peace after ww1 armistice, originally it was named Prudence and had a coal fired boiler. The mill is deemed to be of national importance.
Learn about pirn winding and drawing in. There are 308 looms in the shed  at present, originally there were over 900. All the looms were bought from two Burnley companies and have not been replaced.    Cloth was taken by horse and cart and railway to the finishers, for dyeing and bleaching. Only in 1910 was the horse and cart replaced by steam powered lorries.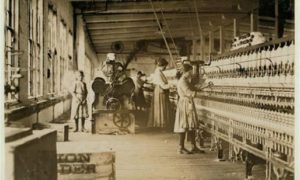 Weavers were paid by piecework; a good four-loom weaver was paid 24 shillings a week, only slightly less than a tackler. Harle Syke workers had always been paid slightly below the list, which management explained as being due to the carriage costs to Burnley. In August 1915 there was a strike that lasted for several weeks triggered by this injustice.
The mill was finally closed as a working enterprise due to financial reasons in March 1982. It was closed by Lancashire Musems Service but has now re opened.
Cost around £3. For further info contact us at info@foph.co.uk.
Meet at 1 30pm at the Museum entrance off Queen St. Harle Syke, Burnley. BB10  2HX
Banner Image:Journal of Victorian Culture web site. Courtesy of Stephen Irwin.