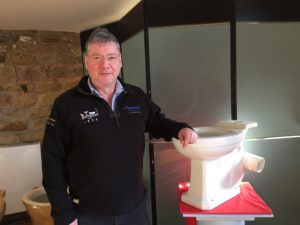 Edgar is the third of four generations in a local family of plumbers merchants. He began his talk surprisingly, with the first ancient bath in Knossos three and a half thousand years ago. He then amazed our small audience with a large variety of interesting facts, for instance:
Did you know?
The expression "the wrong end of the stick" originated in Roman times?
The Scotia, the Rolls Royce of toilets was banned due to EU regulations, this very efficient syphonic bomb toilet was replaced by 'wash down' toilets that we are all very familiar with today?
Queen Elizabeth 1's nephew designed one of the first loos?
Flush toilets originated in England?
The term 'spending a penny' originated at the Crystal Palace, Great Exhibition?
That World Toilet Day is on November 19th?
That 40,000 Americans are injured each year in accidents connected to toilets?
That The Times in the 1950's refused to run a public health advertisement on washing hands after using the WC because their readers did not need reminding?!
A local lad John Duckett who built churches and mills in Burnley was one of the best and foremost person in first having a successful plumbers merchants and according to Edward he was better at designing toilets than Thomas Crapper.
That the Americans had an influence on terminology for the lavatory as in the loo, head, john?
Do you know why wooden toilets seats went out of fashion, very rapidly in the 60's?
There was much interesting information to be digested. Edward also brought a range of sanitary ware for inspection. He closed by stating that the humble WC is a modern convenience, a fashionable selling point, a feat of excellent engineering and probably the most important item in your home!  None of this went down the pan and Edward was flushed with success and we are indebted to him for donating his fee to the Friends of Pendle Heritage.
Two more Puzzlers:
Would our male readers like to know why there was a bee shape in the porcelain two thirds the way down a urinal? Clue think of the latin name for bee!
Would you ladies like to know which toilet cubicle is the cleanest (in a row of five)?
The answers to both these facts are based on science. When you attend our next meeting we will be able to provide the answers for you.
And the reason wooden toilet seats went out of fashion? The wearing of suspenders and stockings!