What a rich tapestry of history we imbibed at Hoghton Tower on Tuesday 26th September. This fortified early 12th Century and later Tudor Elizabethan Manor House, the home of the de Hoghtons has entertained many illustrious visitors.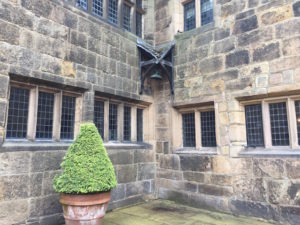 You may know that James 1st knighted a loin of beef there but did you know he rode up the stairs on a horse and he was less the 5ft in height? In the Banqueting Hall you can see the actual Beef Table and an original sideboard.     James also refused to sleep in the State Bedroom which had four doors, choosing a much 'safer' room with one door.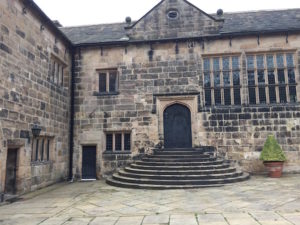 A favourite of James 1, George Villiers who was a very powerful commoner but later became the Duke of Buckingham also stayed there, as did William of Orange.   There is a link to Ireland with the red hand of Ulster on the family crest.   Many other houses in the North West were catholic strongholds among them nearby  Townley Hall. However it looks like Hoghton Tower had the upper hand on the number of priest holes.George V and Queen Mary and the Duke of Edinburgh have also slept under the roof of Hoghton Tower.   During a tour you will learn the links to  JMW Turner and a certain Willliam Shakeshaft via Alexander Houghton. You may get to stand in the footsteps of James 1 and Charles Dickens and also the spot where the unfortunate Thomas Seymour was beheaded.
The famous White Cattle, now found at Chillingham resided at Hoghton centuries ago and are featured on decorations in the house. There are links to Florence, Bohemia, Cartmell, Lancaster University and a Medici coat of arms. Oh and don't forget to see the 120 ft well, with its attendant machinery.
We heartily would recommend a visit to this charming Manor House. Although you can wander round by yourself we would recommend a guided tour, we learned so much from our splendid guide. After touring the pleasant gardens we finished with a very satisfying cream tea  in the tea room. Don't fall down the well!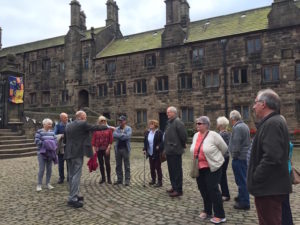 And if you wish to know how the terms threshold, powder room and off the peg arose, come along to our next meeting and some of our members will tell you. They might also remember what the ladies used to enhance their eyebrows!