A group of fifteen of us gathered on a Post Ex Day.     With regard to Pre History, Alex Whitlock mentioned examining antiquarian sources or contemporary accounts of the Hidden Valley (HV). Field walking in upland area may show significant areas that had not been ploughed out. Legal documents also may show some boundary lines due to various land disputes particularly within the Dole Courts. Re Maps, the earliest one of Craggs is 1841.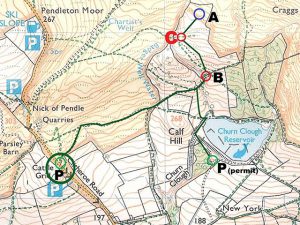 Dating of historical periods by English Heritage also used in academia was discussed. Pre History is measured as anything before 43 AD when the Romans began recording Brittania. The HV holds information from Neolithic up to modern times.   Alex stated the possibility of doing post ex work mid week.
A field walk done by David, Brian and Richard revealed that an intended site for Mediaeval excavation is too unsafe due to the state of the building and another site is being sought. David talked about methods of archaeology not immediately apparent. Not all archaeology is done by groveling on your knees in the mud. Armchair archaeology can be done in your own home researching on the internet for example at Lancashire Archives or even visiting this type of library as at Kew where Brian found a wonderful 1612 map of the area.  Not that we would expect anybody to go to Kew! Brian is a very keen lad.  Archaeology uses a range of skills, maths, drawing objects as well as the site, photography. In addition to analytical skills a degree of creativity in solving problems discovered routinely in archaeology is also useful. When looking at evidence nothing can be discounted initially.
Buildings are upstanding archaeology and many locally and across the country need recording before they disappear. It is likely that the group will spend time recording a local barn in the not too distant future.
Brian and Richard have been looking at 'mediaeval mysteries' along the Hidden Valley and Pendleton Common. Ditches and banks, turbary lands, draconian laws in Pendle Forest for lawbreakers where knights were imprisoned and fined or had to leave the kingdom and  where the peasantry suffered the death penalty. James 1 being short of money and apparently almost bankrupting the economy (does this sound familiar?) led to land being sold off with resulting 'turf wars'. Brian gave us some very interesting information which accompanied excellent slides.
In the afternoon some of us discussed posters to demonstrate work already achieved by the group whilst others did post ex work, cleaning finds and examining small finds from last summers dig.
All in all this was an enjoyable and informative day. A sad note was that this was the last time Janet Sugget attended a group session, she has been a long time member and her quiet, dependable and wise contribution to the archaeology group and to the Friends has been considerable. She will be missed, we wish both her and Ken well in their new home.
And would you believe – she will be living in Yorkshire!
Banner Heading: Find of the Day: pottery sherd,  probably a Stuart charger or platter.
Images courtesy of A. Whitlock