Date: 8th February 2020
Times: 10:00 am - 12:30 pm
Location: Pendle Heritage Centre
When you have been digging up turf and scraping back the soil and emptying the buckets on the soil heap and your knees and back are aching there is nothing better than turning up a small fragment or shard of pottery!
Pottery identification is an extremely valuable aid to dating archeological sites and their possible use.     It is usually the most common find and is more stable than metals and organic materials.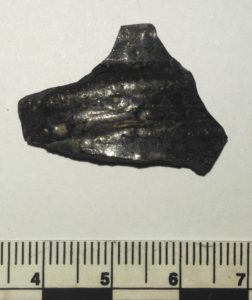 The facts that can be discovered by examining a piece of pottery are fascinating. If you find an intact piece, what can be deduced from inside the pot ie its useage is equally as riveting as how and where the pot was made. Traces left in a container at Must Farm revealed what the food was that had been cooked in the pot, the seeds which then revealed probable agricultural practices and the type of animal fat that the food was cooked in. Bronze Age pots commonly contain human ash or bones.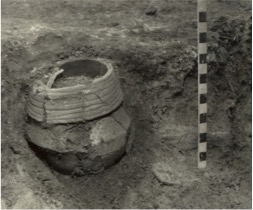 Pottery informs us of cultural practices, rituals, food eaten and animal use amongst other things. The style and decoration of the pottery also holds many clues as to its age and where it was made.    The nature of the fabric of the pot is also useful, most are made from clay some contain inclusions which may consist of flint, human or animal bone.   Patterns of wear and tear and also decorative patterns on the base or rim can be significant in identifying the piece.   Putting the pieces together can be a slow painstaking process.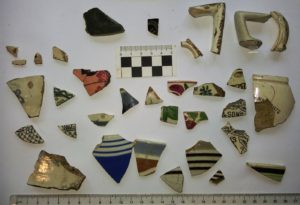 In short, studying pottery and pottery fragments ought to make one a good detective.  So come along and listen to David's talk on the Importance of Pottery. David is our Roman expert, having been instrumental in being one of the first two people to carry out expert geophysical exploration on Hadrian's Wall.  This is just an introduction to whet your appetite.

Meet in the café for a chit chat at 10 am or 10 30 in the Green Room.
Afterwards we will have a short meeting to discuss future plans and activities. It's over to  you the members.   Non-members welcome.
Banner Image: Samian Ware. British Museum, Portable Antiquities SchemeTwo adjoining sherds of pot thrown Roman terra sigillata (samian sare) from the same vessel dating to the period AD 43-250. The sherds have an orangey patina and the majority of the glaze is intact. There is a raised U shape repetitive motif around the top with a raised line below and beneath that raised relief of a galloping horse and rider looking backwards.